Webinar: 'Finding peace of mind', by Alfredo Rey
ESADE Alumni invites you to 'Finding peace of mind', an interactive session by Alfredo Rey, executive and personal coach, trainer and meditation teacher.

This session will reveal how the brain works and teach techniques to calm it down. By learning to control your mind, you can use it better and let it rest when necessary. By avoiding being trapped by everything happening in your mind – your thoughts, emotions, desires, memories, habits – you will be freer and happier.

You will learn methods applicable to everyday life that do not take up a minute of your time: how to breathe differently, be aware of what is going on in your mind and pay attention to the present time. There will also be an introduction to meditation.

This session is part of the Wellness series organised this year by the ESADE Alumni Career Services.

Remember, you can:

- Access the webinar wherever you are from a mobile device* or computer providing you have a loudspeaker and an internet connection.
- Interact with the speaker by asking questions via a real-time chat during the presentation of the session.

*If you use a mobile device, you must download the app to access the webinar platform.

IMPORTANT REMINDER:
A few days before the workshop we will email you a personal and non-transferable access URL to enable to you follow the workshop live and take part in it. Webinar times are GMT+01:00, Brussels, Copenhagen, Madrid and Paris. Find out what time the workshop will take place in your time zone by clicking on the link in this email.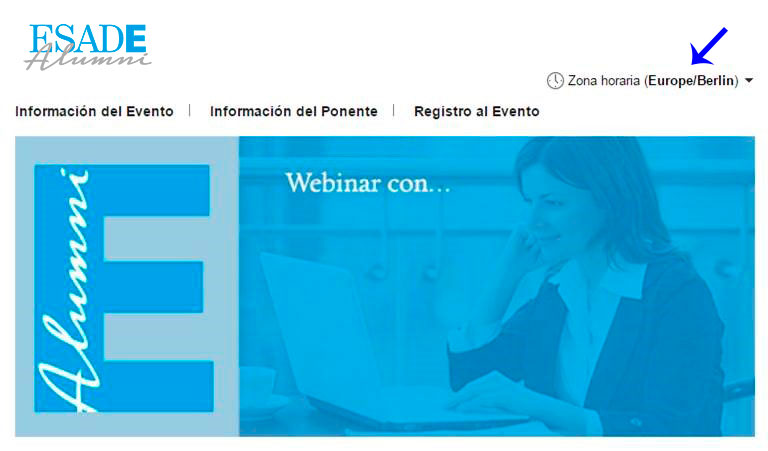 Alfredo Rey

Founding partner of ''CONOCERTE Center of Psychology and Personal Growth'', where he teaches meditation and holds personal development workshops. San Agustín del Guadalix. Teaches meditation at the Centro de Estudios del Coaching. Madrid. Author of the book ''Planeta India''. Plataforma Editorial. Currently translating and adapting ''Vivir cada momento'' Swami Shashat. India. Organiser and participant in social projects in Rishikesh, Uttarakand (India) and Marrakech (Morocco).

Degree in Biology (Universidad Autónoma de Madrid, 1990); executive coach (ACTP) certified by the International Coach Federation (European School of Coaching, 2008). Yoga and meditation teacher certified by the Yoga Alliance International (2006 - 2014). Works as a coach, trainer and teacher of meditation. Teaches a variety of programmes: experiential coaching and training, outdoor, teambuilding, etc. Works with companies, consultancies, marketing and event agencies, and business schools including ESADE.

He lives in Spain and India. Based on his eastern and western knowledge and experience, he has created the Laboratory of the Soul, a project based on the cornerstones of giving-back experiences, coaching and training and the ability to look inwards through meditation which he combines to achieve remarkable changes and evolve at both the personal and corporate level.
Only for ESADE Alumni members.

Limited numbers

We hope to see you there!


For further information:
clubesterritoriales@esade.edu