Cavli Wireless Receives Best Startup of the Year Award from Esade Alumni and Banc Sabadell's BStartup
The latest edition of Esade Alumni Startup Day took place under the slogan "Rethink, Reinvent, Rebuild"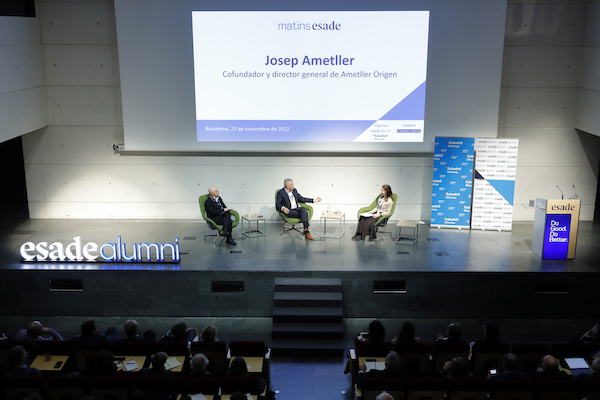 Under the slogan "Rethink, Reinvent, Rebuild", the latest edition of Esade Alumni Startup Day showcased the value of the entrepreneurial ecosystem, with this year's Esade Alumni & Banc Sabadell Best Startup of the Year Award going to Cavli Wireless.
Esade Alumni Startup Day began with a presentation by a successful entrepreneur: Josep Ametller, co-founder and CEO of Ametller Origen. Ametller gave an overview of the history of the company – which specialises in high-quality fresh and pre-cooked food products – from its origins to the present day. In particular, he focused on Agroparc, a new sustainable and circular agricultural production facility located in Gelida, a town in the Alt Penedès region, which he described as "the only project of its kind in Spain". Ametller underscored "the importance being familiar with the product and ensuring that it is high-quality". The future, he explained, will be focused on "technical upgrades and training". He added: "We will have to adapt to a new paradigm, with less water, higher temperatures and inclement weather, which will greatly affect production. The good news is that the primary sector is going to lead the way, as there will be more demand than supply."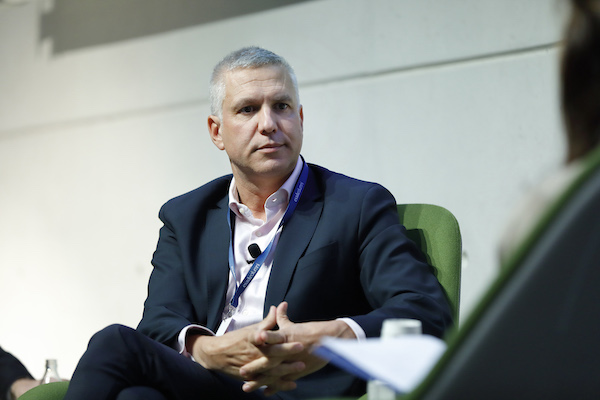 2022 Best Startup of the Year Award
During the award ceremony for the Esade Alumni & Banc Sabadell Best Startup of the Year Award, Carlos Ventura, CEO and Director of Corporate Banking and Network at Banc Sabadell, declared: "It is a pleasure to present this award to Cavli Wireless, because it is an ambitious and truly global company that is making a very significant impact in the world of the Internet of Things and contributing to the evolution and modernisation of the industry." He added: "We first awarded this prize in conjunction with Esade Alumni in 2013, just as we were launching our specialised service for startups. In this regard, we were pioneers in the Spanish banking world, which enabled us to experience the great evolution of the innovative ecosystem in Spain from the inside. Cavli Wireless and the award winners from previous years are great examples of this growth and evolution."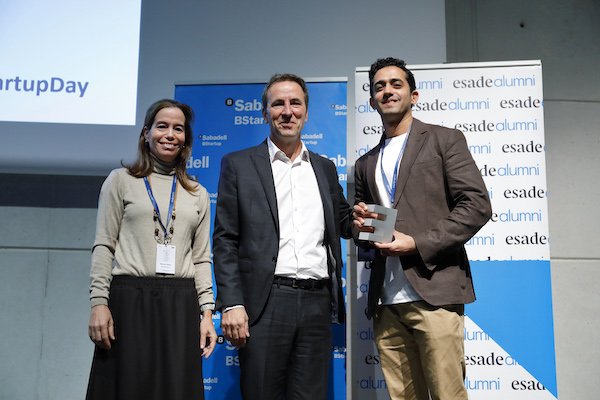 Cavli Wireless is a startup that manufactures IoT cellular modules and combines IoT connectivity with data management in a single platform. Among other reasons, Cavli Wireless was selected as the winner in recognition of its global outlook and its innovative IoT solutions, which offer companies the hardware, cloud data storage and connectivity with integrated telecom operators, all from a single provider.
Cavli Wireless is a startup that manufactures IoT cellular modules and combines IoT connectivity with data management in a single platform
Thanks to one of the four founding partners of Cavli Wireless, Tarun Thomas George, a graduate of the Esade Full-Time MBA, the project was presented at Esade BAN, where it attracted the interest of 13 members of the business angels network, who together invested a total of $415,000. "At Cavli, we are very happy to receive this award from Esade Alumni and Banc Sabadell," commented Tarun Thomas George (MBA 16), co-founder of Cavli Wireless.
Investors, fashion and female-founded startups
Also at Esade Alumni Startup Day, the role played by investors in startups against the backdrop of a new economic cycle was analysed at a panel discussion featuring Carles Florensa (MBA 87), Esade BAN business angel; Daniel Sánchez (Business Science & MBA 88), founder and partner at Nauta Capital; and Borja Martínez (Lic& MBA 96), founding partner of Abac Capital. The topics discussed by the panellists included the decrease in valuations, changes in investment theses and the paradigm shift that startups face when seeking funding due to the demand for monetisation models.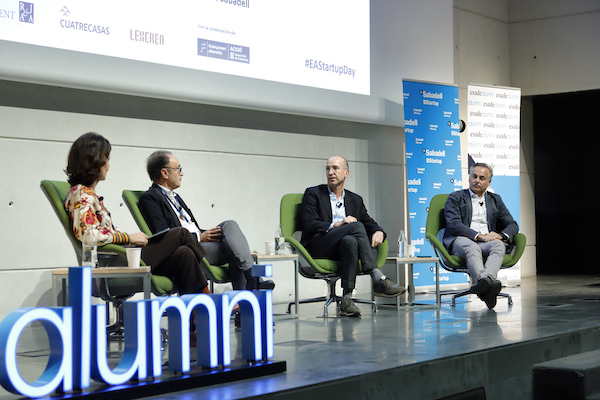 The challenges of entrepreneurship in the fashion industry were the focus of a second panel discussion, which featured the founders and CEOs of Brava Fabrics, Twojeys, SAYE, Project Lobster and Pompeii. Ramon Barbero (MBA 13), Joan Margarit, Marta Llaquet (BBA 12), Oscar Valledor and Jaime Garrastazu discussed the lessons they have learned at the helm of their respective projects: how to use social media and influencers, how to identify consumer needs, what personality to imprint on a project and how to implement the offline channel after reaching the ceiling in the online channel.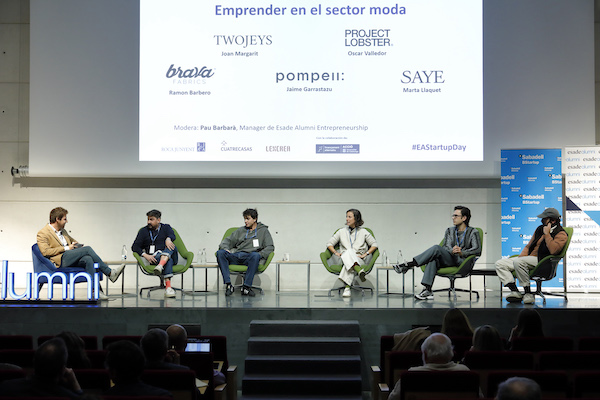 Esade Alumni Startup Day also aimed to shed light on the role of women in entrepreneurship, which is why it featured presentations by several female-founded startups that have received Esade BAN investments: Vottun, Born Rosé, Kanara Sportech, Dinbeat, Competize, Pack2Earth, Wivi Vision and Nanoligent.
The event ended with the traditional networking cocktail – the perfect moment to share experiences, make new contacts and seize opportunities to add value to the community.