Homyhub Wins 5th Esade Alumni Real Estate Innovation Challenge
Enzo Zamora's project won the top prize on the strength of its disruptive approach and social impact, in keeping with the values of Esade Alumni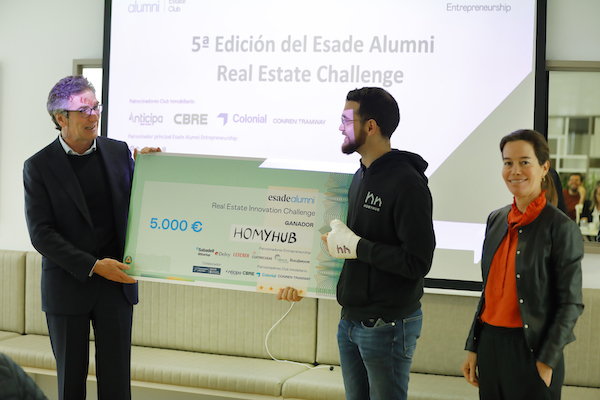 Over breakfast on 23rd March, before an audience of experts, investors, real estate executives, and representatives of Esade BAN and Esade Alumni, six finalists – Cubicup, Wilgo, Hodefy, The Residential Club, Muppy and Homyhub – presented their proposals for solving challenges in the real estate industry. These six projects had been selected from a pool of 40 applicants for their high growth potential and their innovative, high-tech responses to current social problems.
The Esade Alumni Real Estate Innovation Challenge, organised jointly by the Esade Alumni Real Estate Club and Esade Alumni Entrepreneurship, aims to promote the development of the proptech sector and support entrepreneurship.
The winning project, Homyhub, aims to unleash the potential of garages and turn them into valuable spaces in people's lives. Homyhub's solution converts your smartphone into a smart garage remote, allowing you to open and close your garage, track who comes and goes, and provide immediate personalised access, anytime and anywhere. It also allows access to a new-generation services marketplace, thanks to the integration of major market players with its IoT API. "It is a company with high scalability, low risk and large social impact – in other words, it ticks all the boxes for this challenge," commented Jaime Hugas during the award ceremony. "There can't be more than one winner, but all of the projects presented have great chances of success and are sure to surprise us in the future," he added, referring to the other finalists.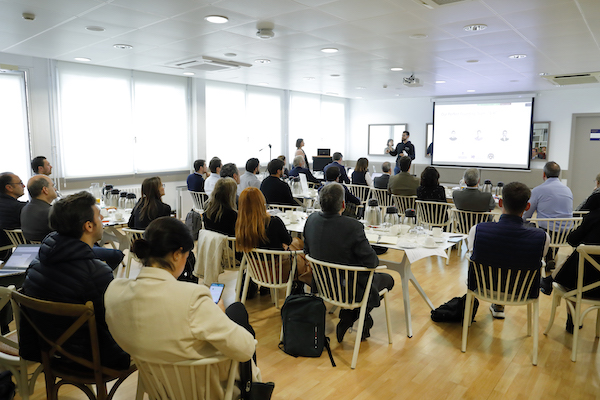 Meet the other finalists
- Cubicup is new sort of construction company offering full remodels with an innovative design and technology. It seeks to professionalise and modernise the home renovation industry.
- Wilgo offers a flexible and affordable way to rent an apartment. Wilgo Deposit covers the initial expenses and Wilgo Rent covers the monthly payments, while the tenant repays these expenses via an instalment plan.
- Hodefy is an all-in-one property management platform that makes buying/selling/renting transactions easier than ever, thanks to a digital financial solution that facilitates customer control and automates management.
- The Residential Club designs and operates buildings created exclusively for young professionals, creating communities of people between the ages of 25 and 35 years. Its co-living model includes consulting, operational and marketing services.
- Muppy is the perfect host when you arrive in a city. It offers spaces, services and experiences, combining comprehensive property management with individual housing units in the city centre.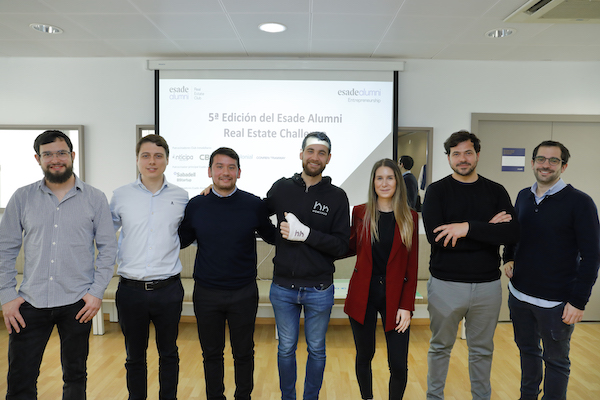 The panel of judges responsible for assessing the projects consisted of high-profile figures from the business, entrepreneurial and academic worlds: Carmina Ganyet (VV '03), President of the Executive Board of the Esade Alumni Real Estate Club; Patricia Valentí (MBA '02 / Promociona '19), Director of Esade Alumni; Fernando Zallo (Lic&MBA '83), Director of Esade BAN; Enrique Martínez Laguna (MBA '93), Eduard Mendiluce (MBA '97), Acisclo Pérez (Lic&MBA '08) and Jaime Hugas (Lic&MBA '95), members of the Executive Board of the Esade Alumni Real Estate Club; and Sara Pastor (Lic&MBA '05), a member of the WE Club.
The event also featured a presentation by David Bros, Real Estate Management and Proptech Programme Director at Esade Executive Education, about the proptech ecosystem and its relationship to climate change and decarbonisation. This ecosystem consists of 10,000 companies, has good prospects for growth (>16%) and is investing heavily to mitigate climate change.
Interview with Enzo Zamora, CEO of Homyhub

- How did the disruptive idea of Homyhub come about?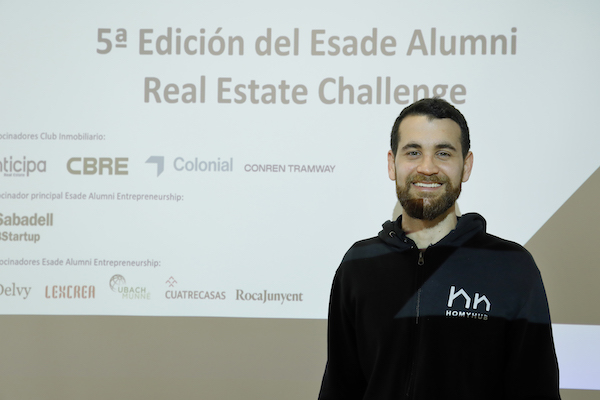 Over the years, the members of our founding team noticed that whenever we were away from home and somebody needed access to our garage – parents, friends or even service providers, such as package delivery people, or parking space renters – there was no way to provide access remotely. If we gave the garage remote control to someone ahead of time, we couldn't be sure who was accessing the garage or exactly when they were doing so, since tenants or service providers could make a copy of the remote control and still have access to the garage after termination of the lease. Similarly, when I would go cycling, I found myself carrying lots of things, including a remote control, and I would wonder – in the 21st century, do we really have to lug remote controls around? Why can't a smartphone act as a remote control? Think of all the problems that would solve!
That's how we came up with Homyhub – a solution developed and designed in Spain that turns your smartphone into a smart garage remote and allows you to do much more than just open your garage. It is a universal solution, working equally well for garages of single-family homes, apartment buildings and office buildings. It allows users to control, monitor and manage access to the garage, anytime and anywhere. It also allows access to new-generation services that we are developing, such as secure package delivery with Correos or Seur, collaborative economy with Naturgy and Iberdrola, and connected vehicles with Ford.
Many of the most disruptive and valuable companies of the 21st century were born in garages, including Google, Amazon and Apple. Homyhub not only was born in a garage, but we actually decided to focus on garages as a way to change people's lives. Our goal is to unleash the full potential of the garage and turn it into a more valuable space for society.

- What innovations does Homyhub offer to the real estate industry? 
In the "build to sell" market, we generate greater profitability per property as well as differential and innovative positioning of properties.
In the "build to rent" market, as well as in rental properties and car parks, we offer cost savings in the management of access and keys to the property, while also allowing access to additional services and creating a new source of income.

- What is the current status of Homyhub? What are the next steps? 
We have successfully launched Homyhub in the Spanish market, reaching tens of thousands of users in a short time. Just as importantly, we have received very good user ratings – an average of 4.7 out of 5 over more than 700 reviews – allowing us to position ourselves as the market leader, with the solution that is not only the most innovative but also the most valuable for our customers.
The next steps will be to accelerate our conquest of the Spanish market and expand internationally. We are currently doing a funding round, considering offers from professional and industrial investors, while also expanding our reach in terms of number of garages.
We also want to expand our client base in the real estate industry to include figures such as residential developers and property managers.

- What does this award mean to you? 
First, it means recognition and validation from industry experts, which reaffirms the value and potential of our innovation. It makes us more visible to other players in the ecosystem, including potential customers and investors. It also drives us to expand our existing partnerships with major industry players, while also developing other innovative products. This all helps us to accelerate our consolidation in the market.

- What did you think of the other finalists in the Real Estate Challenge? 
It was an honour to share a stage with them. They set a high bar, in terms of both their business approach and their degree of innovation.

- What do you think of these sorts of initiatives to promote entrepreneurship? 
They are essential, as they allow us to promote and share our innovations with key players in the sector. Like any young company – but especially those linked to technology – getting started and consolidating your position requires lots of effort and knocking on many doors. This type of initiative helps us knock on multiple important doors at once, creating business connections and spreading the word to others who may not have been able to participate directly in the initiative. This, in addition to the cash prize, is a great boost to our business.