Inspiring formulas for building a better world by promoting networking between civil society, companies and nonprofit organizations at the closure of Giving-back Consultants
The event was organized around a roundtable on "Inspiring financing formulas for social projects and partnerships between private enterprises and nonprofit organizations"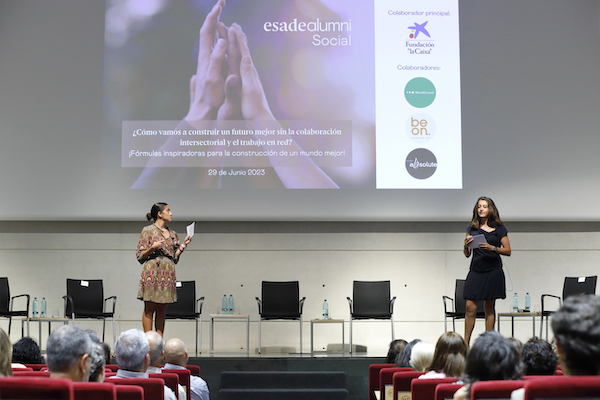 We have once again concluded the Esade Alumni Social Giving-back Consultants course with a powerful vision of the future. Through this program, alumni contribute to building a fairer society and more sustainable world. To achieve this, the event was organized around the roundtable on "Inspiring financing formulas for social projects and partnerships between private enterprises and nonprofit organizations," which explored alliances as a model for creating a better future.
In Spain, the social economy mobilizes more than 120 billion euros, including cooperatives, mutual benefit societies, foundations, associations, specialized work centers and job-placement companies, all of them organizations with a true purpose and overarching mission. There are now more than 43,000 organizations of this type, whose turnover accounts for 10% of the GDP and which directly or indirectly create 2,000,000 jobs. And at Esade Alumni, we want to learn, grow, connect and actively participate in social initiatives and have a positive impact on society. After all, only if we all work together and join forces will we make headway towards a better future. This is why with Olga García Guixé, Fundraising director at Stockcrowd as the moderator, we invited different experts to share their initiatives for fundraising and strengthening their organizations through alliances and networking for social impact projects.
"We regularly hear that there isn't a culture of donations in Spain, and that is simply not true. The change shouldn't come from donors but from the organization. As long as organizations think that there isn't a culture of donations, it's not going to evolve. The English-speaking world is skilled at managing fundraising campaigns, which they track exhaustively. And I think that part of the success of organizations that raise a lot of money is the involvement of their management," García Guixé said during her introduction. After that, the speakers shared their experiences creating alliances, networking, getting civil society actively involved and remaining sustainable over time.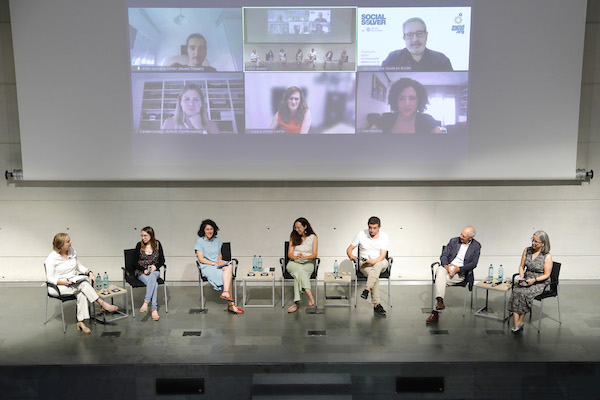 Success stories
Mercè Salas, Fundraising and Corporate Alliances Department at Red Cross Catalonia
"We have to bear in mind our own ethics code and strategy when seeking alliances. Each organization has its own strategy, so you have to come up with a win-win approach with the donor company's strategy for it to work. The keys to a donation's success are good communication, trust and respect for the work of all the teams."
Susana Ortega, director of People, Sustainability and Foundation at Alain Afflelou
"Six million people in Spain have impaired vision. We want to reach these people to meet their needs, so we set up a charitable outlet whose collections have been earmarked for the Seeing Again campaign which we are conducting in conjunction with the Red Cross. When you explain this situation to people, you realize that they are actually very charitable. Introducing the concept of sustainability into your value chain helps you produce better and turns barriers into benefits."
Esther Modino, head of Social Action and Sustainability Communication at Leroy Merlin Spain
"We have different avenues of social action and innovation. 'Decent Homes' is an initiative that helps to detect the projects with the greatest social impact with in-kind donations through our stores, because they're the ones who are in direct contact with local people and can more easily detect their needs. In our search for other ways of helping, we implemented 'Services and Products with a Soul,' which incorporates social suppliers."
Marta López Fesser, director of Corporate Partnerships at UNICEF Spain
"At UNICEF we have a slogan that what is good for children is good for business. Our approach is shared value. The financing formula is finding the convergence between what the company needs and what the third sector needs. UNICEF used to have a problem (children who can't play may have lifelong problems), and Lego had the solution to use its game as a tool. Together we created Learning through Play to educate and stimulate very young children. Now Lego is like an ambassador of the cause."
Carmen Conejo, head of the Charitable Bequests Area of the Spanish Committee of ACNUR Spain
"A charitable bequest is a formula that is within reach of everyone and brings a lot of joy in the middle and long term. We've spent more than eight years raising awareness and funds in this way, and there is still some hesitation. What is needed is to make this kind of donation more common. We had always held conventional media campaigns, but we've learned that it's important for the people featured in the campaigns to be real donors who tell about their bequest themselves, and to show the impact of the donations."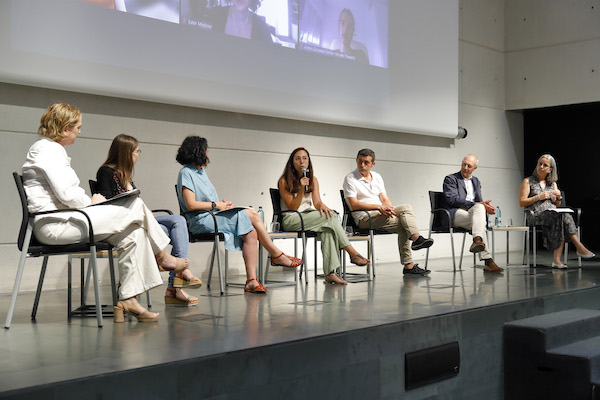 Sonia Ruiz, head of social action at the Fundació Formació i Treball
"Alliances are important. We reached an agreement with Barcelona's Hospital Clínic, which performed bone-marrow transplants at home and include the patient's caregivers. With this alliance we provided patients with access to transplants and vulnerable people with access to the job-market. Cáritas provided us with the pilot test, and the Fundació la Caixa and Kern Pharma are our partners, so it is a multi-alliance project. Working in alliances isn't easy, but what makes it easy is the team behind it. If the team believes in the project, you are all working towards a common goal."
Joan Reventós, director of the Fundación Kálida
"We help people in oncological processes with comprehensive psychosocial support with an amalgam of professionals. There are many projects we can learn from and even copy. The purpose of our service is to complement the medical treatments in hospitals, and it is inspired by the psychosocial care model of the international organization Maggie's. Many people have turned to this model. Maggie's agreed to a strategic alliance, and Barcelona's Hospital de Sant Pau also joined it, along with the Fundació Nous Cims. Fundraising is investment, and patrons should invest both personally and monetarily."
Iban Askasibar, coordinator of Impact Partnerships at Ayuda en Acción
"Social Solver, the digital open innovation platform for social impact, is an intersectoral, online, social and digital initiative. Our approach is like a business spinoff, matching challenges around the planet with professionals who can provide solutions. In this way, we manage to take innovation to people and regions without access to it. Education, energy, architecture, marketing, inclusive business design… there are social barriers everywhere. We identify challenges, the solvers respond with alternative solutions and we pilot the best alternative in order to ultimately scale it up."
Antón González, Sponsorship and Patronage Department at the Museo Nacional Thyssen-Bornemisza
"We did a micro-patronage project for the restoration of the Canaletto painting St. Mark's Square in order to raise 35,000 euros with a minimum donation of 35 euros. Six hundred donors ended up participating. This initiative, in which we chose a donation-based structure, had never been tried in Spain before. The painting was divided into 1,000 parts, so each donor could choose theirs and sponsor a little part of the painting to be restored. We appealed to the power of emotions to motivate people, in addition to the allure of sponsoring cultural initiatives, and it was a resounding success."
Juan Antonio Bordas, member of the board of the Fundación Tenis Barcelona and the Board of Directors of the Real Club de Tenis Barcelona
"We want to be a benchmark sports organization in our social action in Barcelona. Our mission is to help children at risk of social exclusion live healthier lives by playing tennis. To do this, we teach them how to play in their neighborhoods, and in the future we are going to complement this with training scholarships. We financed it with the club's own funds, our members, the funds we raised during the Godó tournament and a variety of activities and other organizations. The world is collaborative today, so you have to set aside your ego and learn from and even copy other organizations."
María del Carmen de la Fuente, director of Fundación Migra Studium
"We created the Hospitallers program via Stockcrowd to find families who would host migrants in their homes. We launched the program in 2019 and have managed to find 93 families who have hosted 128 migrants in their homes, with 80,000 euros raised. We have expanded the organization's social base and boosted its loyalty while increasing the number of donations and consolidating our mission."
Conclusions
Some of the most noteworthy conclusions we were left with are:
-The world is increasingly collaborative, and we cannot remain on the sidelines of this trend.
-Everything has already been invented; our goal is to use a bit of imagination to adapt the best option to our own circumstances.
-We can get inspiration and learn from the best, and then analyze what went well and badly to try to do things well, each in our own way.
-The key to working with companies is coherence with our mission. This is the only way for it to yield positive results.
-Last but not least, we should emphasize and remember that people make things happen with their passion, determination to achieve results and professionalism.
The event ended with a social cocktail among the participants, which encouraged networking and the exchange of reflections on what we had learned.
You can see the video of the event on the Content Hub