Lídia Concustell (BBA '18): "Pluriculturalism is wealth"
Lídia Concustell is the Business Manager for Accessories Europe G5 at the Renault Group. We spoke with her about multicultural teams, young talent and women's empowerment.

- You work in Paris and Barcelona for the Renault Group, where you have held various positions over the last five years. In your experience, what skills does a person need in order to develop an international profile? 
The essential requirement is to be able to work in a highly multicultural environment. Several variables come into play here. First, you have to know, understand and be able to communicate in several languages – the more, the better. Second, you have to be versatile enough to adapt not only to the environment and the market you wish to target, but also to your teams.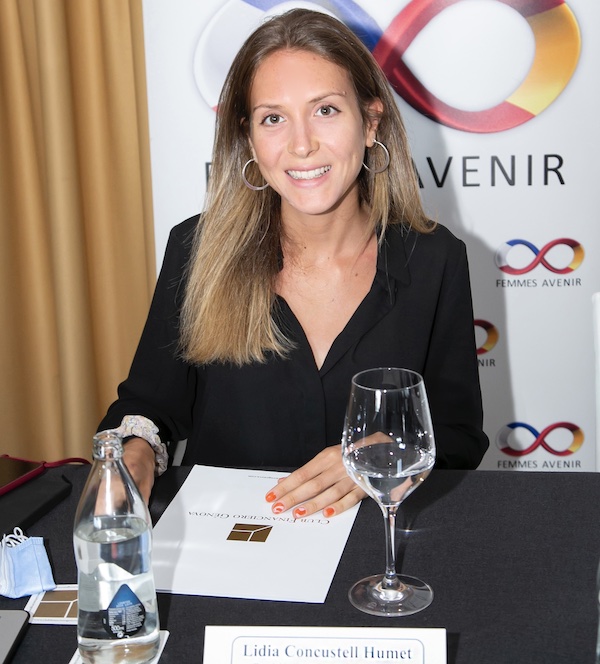 To successfully create new approaches, it is important to provide appropriate responses to fast-changing situations, which are typical of a globalised context. It is essential to be able to detect the challenges of each geographical location and adapt your procedures accordingly, always taking market specificities and maturity levels into account. However, it is even more important to be tolerant, understanding and aware that your colleagues may have values and cultural notions that are very different from your own. As a group, the objective is clear: to find compatibility, rapport and affinity in order to reach a unique identification that leads the group to achieve the expected results. It is one of the great challenges of multinational companies, but also a great tool that you can wield. Pluriculturalism is wealth.

- What are the current challenges facing the automotive industry? 
The European Union has set an end date for the production and sale of vehicles with combustion engines: 2035. Automakers must move towards sustainable mobility, since the new goals will be based on sustainability in all processes. This has been and will continue to be one of the main challenges – not only for the sake of complying with regulations, but also because of our responsibility to contribute to a more efficient and responsible economy. All countries are now looking towards an zero-emissions future. Moreover, post-pandemic consumer behaviour is trending towards environmental awareness. The industry needs to be able to offer options accordingly. Governments, companies and consumers will all need to play a role, as the changes involved in all senses and aspects of life are truly profound.
Continuing to invest in R&D will be fundamental to gaining ground. Digitalisation opens the door to another vital challenge: speeding up the digital transformation of the value chain to improve productivity and competitiveness. Developments will be driven by technology, which is essential for becoming competitive and renewing the vehicle fleet. The objective is to find new ways of organising production through technological solutions.
And we mustn't forget the funnest part of the industry: the consumer experience. Attracting and retaining consumers will never cease to be a challenge. It is important to give them a good customer journey through digital tools and to provide the safety and novelty they crave. Right now, this translates into the search for sustainable, autonomous, smart and connected vehicles. When it comes time to buy a car, consumers will place a premium on entertainment, leisure and comfort. At the same time, to ensure that we are providing good service, we have to guarantee on-time delivery – a difficulty we have been facing recently due to the auto parts crisis. Many new competitors are entering and will continue to enter the market to offer incredibly innovative mobility services.
"Digitalisation opens the door to another vital challenge: speeding up the digital transformation of the value chain to improve productivity and competitiveness"

- Where do you see yourself five years from now? What career path would you like to follow? 
I hope to keep evolving and discovering new skills in challenging positions – all the better if it is in the automotive industry, which I simply adore. I would like to be able to keep developing my initiatives and taking on greater responsibilities as a result of my good performance. I want to remain oriented towards professional growth, which makes me feel fulfilled at the end of each day, while always striking a reasonable balance with activities outside of work.

- What is your idea of success? 
Given my character and peculiarities, I believe professional success is based on satisfying the needs for fulfilment and maturity at work, on fulfilling the aspirations and goals of the position, plus a certain combination of factors: contributing added value to the company, on the one hand, and having a favourable personal learning experience, on the other. Obviously, there are several essential factors that must be covered in order for a particular professional activity to be worthwhile. Besides the financial incentive, there should also be shared corporate values, social commitment and the possibility of balancing work with personal activities.
As befits an Esade graduate, I will briefly mention Maslow, who said that needs become motivation when they become conscious and propel the individual to action. We spend most of our waking hours putting our professional cognition into practice. It's not just a way to make a living, but an intrinsic and inherent element of life. Let's make the most of it. Let's develop ourselves. Let's add value to our companies, to our communities and to society. Let's do what motivates us, occupying positions where we are able to contribute the maximum possible value.

- What does your generation value most when deciding where to pursue a career? 
Today's young people are highly qualified, they have multiple degrees, they speak multiple languages, etc. It is a very competent generation. For me, job stability and remuneration will always be two of the most important factors when looking for a job. It is true that young people look for certain factors that were less common in the past.
One is flexibility – a work schedule governed not by a timetable but by results and productivity. After the pandemic, more and more people are looking for hybrid or remote work as well as mobility opportunities. Another fundamental goal for this generation is to find a pleasant work environment with motivating leaders at the helm. Opportunity for advancement is another key factor. Hopping from job to job is more common today than it used to be; conversely, strong commitment is highly valued.
This is also a great opportunity for companies: by attracting diverse talent that resembles the composition of society, they will be able to adapt to new trends, embrace new ways of operating and offer products and services that fit consumers' needs.
"Let's add value to our companies, to our communities and to society. Let's do what motivates us, occupying positions where we are able to contribute the maximum possible value"

- You are involved in the Esade Alumni Young Commission. What motivated you to join the board? Why do you think it is important for young people to have their own community within Esade Alumni? 
I want to circle back to several concepts we discussed earlier: contributing value where I feel I can do so; sharing values and background with high-profile industry figures and testing the waters with others; giving and receiving guidance on professional experiences; and finally – to answer your question – giving voice and advocating for our generation, acting as spokespeople for globalisation, new technologies, the environment, inclusion and human rights. I want to drive home the notion that we young people have the tools to access positions of high responsibility and/or develop our own entrepreneurial ideas. Hence my involvement on the board of the Young Commission.

- You are also involved with the Women's Empowerment Club. Do you think progress has been made with regard to equality? What measures still need to be implemented? 
Gender equality is a fundamental human right. The empowerment of women and girls is crucial to achieving economic growth and promoting social development. The necessary change requires the support of all parts of society.
We have come a long way, but there is still much work to be done. We can all do our part: supporting equal opportunities in all social spheres; educating others to prevent gender stereotypes and inhibit sexist language; supporting the assumption of equal responsibilities – and, if you are lucky enough to lead a team, encouraging all of this at work. I invite you to take part in events organised by the WE Club, another great way to work together towards a future characterised by equality.
 

"We can all do our part: supporting equal opportunities in all social spheres; educating others to prevent gender stereotypes and inhibit sexist language"