Martí Gou (BBA '20 / MSc '21), co-founder and CEO of Gretel: "The entrepreneurial spirit is something that you carry inside you"
We spoke with Gretel founder Martí Gou about how his startup works and about his experience as an entrepreneur.
Earlier this year, Martí Gou launched Gretel, a new AI-powered assistant that scoops up information from all the apps used by marketing professionals to help them make quick, impactful and timely decisions.

How did the idea for Gretel come about?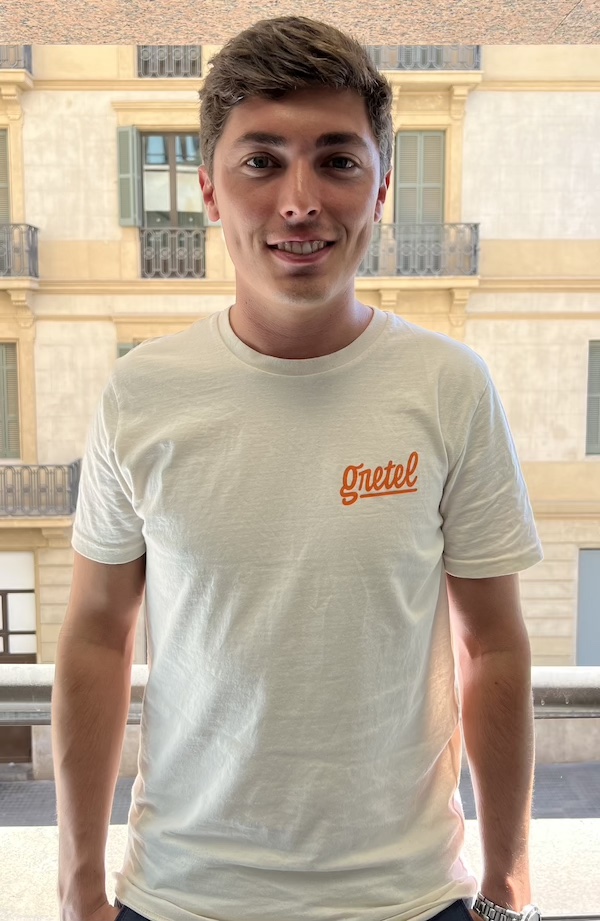 The idea for Gretel came to me after I spotted several trends and changes in how we work. I was frustrated by having to search manually for all the information I needed in the dozens of apps I use in my work.
Based on this first-hand experience with informational chaos, we started to test an initial solution with various types of workers at companies such as Colvin, Treinta and Payflow. We saw that marketing professionals did not know the status of their campaigns in real time and were unable to make data-driven decisions; as a result, they were missing out on opportunities.
My partner Alex and I thought it might be possible to create a smart tool that could show you all the information you needed at all times, in a proactive and personalised way.

How does Gretel work and what is the differentiating factor? 
Gretel is the first AI-based digital assistant for marketing teams that proactively displays the necessary data and information in the form of insights and recommendations to help you make decisions quickly and effectively.
Gretel integrates with applications such as Google, Notion, Meta, Mailchimp, Stripe and Twitter. Once you're inside our platform, you import information from your various apps for Gretel to analyse and process in a matter of seconds. When an anomaly, a change or a specific event is detected, Gretel interprets it and displays it in a feed in the form of an insight, which you can react to immediately.
Moreover, these insights are unique to each employee, since they are tailored to each person's profile in order to inform them about areas of interest to them.

What is the current status of the project and what are your medium-term plans? 
We have validated our tool with more than 100 early adopters and gained a clear understanding of how marketing professionals experience this problem. We have devised the best solution for them are we are now focused on completing its development. We hope to launch our first version at the end of this year.
Our team consists of seven highly complementary people who are excited to have a positive impact on thousands of marketing professionals across the globe. As I mentioned, we are already integrated with Google, Meta, Mailchimp and Notion, so we are able to detect and process thousands of events every second. As of next month, we will be giving our early adopters access to the first categories of insights.
We are closing a new round of funding, which we want to use to validate the product-market fit and make our solution go viral


What has been the most effective way for you to attract new customers? 
Fortunately, this has not been one of our biggest challenges. I came from the venture capital industry, so I have a good network in the startup sector. Since this is our target customer base, it was perfect for us to pull from that network of contacts in the beginning. A few months ago, Lucía joined us to direct the generation of leads via marketing initiatives, which has helped us attract new clients, as well as Inés, who is leading the go-to-market strategy and building relationships with our early adopters. Finally, we brought business angels into the project early on, so they have been able to help us, both by introducing us to people they know and by validating the project with their own companies.

Where did you get your entrepreneurial spirit? 
Ever since I was a child, I have always been a curious person who liked to solve problems. I always admired the people around me who built their own projects from scratch, such as my grandparents. During my time at Esade, I had several opportunities to experience the work of an entrepreneur first-hand, on both the operational and the investment side. After returning from my exchange in Singapore and during my master's degree programme, I founded my first startup with some UPC students. It was a bootstrap project that began while we were finishing our studies, and this experience left me with the desire to become a full-time entrepreneur.
The way I see it, the entrepreneurial spirit is something that you carry inside you. It certainly isn't for everyone. Rationally speaking, there are many reasons not to become an entrepreneur. But for me, there is one reason that justifies everything: the feeling of working on an idea that you firmly believe in and taking it all the way, regardless of what other people might say. Little by little, you convince more people to share your vision and together you find a way to get there.

What has your experience with Esade BAN and Esade Alumni been like? I understand you used the guidance service for entrepreneurs and took part in an international investment forum.
Esade is a great network of professionals with a wide range of profiles. You always end up having some shared acquaintance in common with everyone, and this opens up many doors. Several of our first investors are startup founders who studied at Esade. We reached out to them through other alumni. Esade BAN gave us the opportunity to pitch our project to more than 100 people. We ended up getting interest from people who wanted to join the project. At the beginning of a project, you have to validate a whole bunch of hypotheses, so the more people you talk to the better. The Esade network makes this process much easier.

What have you learned from this project and what are the main challenges you have had to manage?
Setting up your own project is the best education you can get in terms of applying all the experiences and knowledge you have acquired. The funny thing is that there are very few playbooks that apply directly. Each startup is different and you have to find your own way. You have to be open to change and listen to all kinds of feedback before making your decisions. It's no use being told that you're great at everything. You have to surround yourself with people who will challenge you and help you improve day by day. It's a bumpy road, but if you are surrounded by the right people, you enjoy it.
If you are an optimist by nature, you can face any problem and it becomes a new learning experience


When is a good time to start a business? 
In my view, there is no ideal time. It's different for each founder. Some people say that at 23 you are too young; others say that this is the best age because you have fewer biases and responsibilities. I think you have to do it when you feel ready. In my case, several factors came together and prompted me to take the plunge. If you find complementary people with whom you share the excitement of working on an idea for at least the next 10 years – then it's a good time for you.

What advice would you give to a recent graduate who wants to start a business? 
Entrepreneurship is the fastest way to learn. With the right mindset, you are never too young to do it.