21st Annual Real Estate Industry Dinner Focuses on the Energy Transition
The Annual Real Estate Industry Dinner, a yearly tradition for 21 years running, featured Mariano Marzo Carpio, one of the top experts on energy issues in Spain and the European Union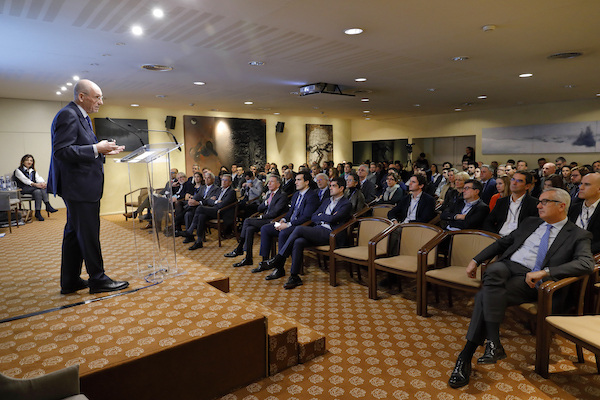 The Esade Alumni Real Estate Club recently held its traditional Annual Real Estate Industry Dinner, now in its 21st edition. The focus of the event was the energy transition, a topic of great concern due to the growing threat of climate change. The special guest at this year's dinner was Mariano Marzo Carpio, Emeritus Professor of Earth Sciences at the University of Barcelona and Independent Non-Executive Board Member at Repsol, who gave a talk entitled "Transition or Energy Revolution?"
Carmina Ganyet (VV '03), President of the Esade Alumni Real Estate Club, gave an overview of Mariano Marzo's long career and noted that the club wanted to offer another view of the energy sector and the challenges that lie ahead in Europe.
Mariano Marzo has worked in Europe, the United States, South America, the Middle East and North Africa. He is a member of the American Association of Petroleum Geologists and the European Association of Petroleum Geoscientists & Engineers. He has sat on several energy advisory boards to central and regional governments, among other institutions. He maintains an ongoing relationship with the oil and gas industry through research applied to the exploration sector and the sedimentological characterisation of oil and gas fields.
 'Power is Power'
As Marzo noted during his talk, we only understand the importance of something once we have lost it. Rather than viewing energy as a strategic issue, we are only concerned about it when we have a problem. "Energy is the capacity to effect change, to transform reality," he declared. "A country that forgets that the capacity to transform is energy fails to understand something fundamental. In geopolitics, power is power."
Thanks to hydrocarbons, since 1950 global energy consumption has increased fivefold, GDP has increased nearly sevenfold, the world's population has more than doubled, and CO2 emissions from hydrocarbons have increased more than fourfold (and more than tenfold since 1900). "Nowadays, without fossil fuels, the system would collapse," warned Marzo.
"The scientific consensus is that, since the Industrial Revolution, and especially since the mid-20th century, humans have forced global warming beyond natural climate cycles. We must now find a way to adjust the thermostat." The first step towards solving a problem is to formulate it correctly: it is not enough to reduce net emissions; we must remove the CO2 that has built up in our atmosphere (negative emissions).
It is not just about changing the energy model; the transition requires a radical overhaul of the socioeconomic system
According to the expert, economic growth and emissions can be decoupled, but this is a systemic challenge: it is not just about changing the energy model; the transition requires a radical overhaul of the socioeconomic system.
By way of example, the European Union is responsible for 8% of global emissions. Between 1990 and 2020, it has reduced its emissions by 30%, at the cost of offshoring emission-intensive industries. However, the rest of the world has continued to increase its emissions, so we are not helping to slow down climate change.
Net-zero and negative emissions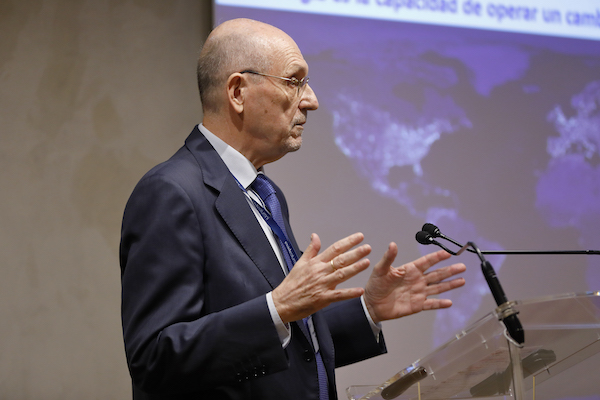 The European Union is committed to reaching climate neutrality by 2050, with the goal of achieving negative emissions between 2050 and 2100. However, in order to achieve net-zero emissions by 2050, with the technologies currently available on the market we would only have 50% of the necessary technologies.
It is therefore necessary to increase European Union budgets in keeping with this priority and to focus on new forms of energy, ranging from fusion to hydrogen to superconductors, while also continuing to develop the circular carbon economy: turning CO2 waste into a resource and transforming it into synthetic fuels, among many other initiatives.
The energy transition also entails significant changes in the energy trade, particularly in the countries that control supply chains, as well as in energy geopolitics.
"I think there needs to be a big step forward in spending by states, and also by companies, which should invest a significant portion of their profits in technological and scientific innovation," argued Marzo. In this decade and the next, we need a major R&D&I boost and a disruptive innovation effort, not only in the technology sector but also on the part of governments, companies, financial institutions and the public.
In this decade and the next, we need a major R&D&I boost and a disruptive innovation effort
Regarding the strategy that Europe should adopt to address the energy transition, Marzo explained that we must pay attention to the new raw materials of the circular economy and the links in supply chains. "It is a question of offsetting what we emit in other ways, capturing CO2, converting it, for example, into another type of fuel," he explained. "It's about moving towards a whole set of actions whose end result is net-zero emissions."
At the same time, it is essential to boost efficiency – i.e. to reduce energy consumption while maintaining economic growth, but using less energy. "The energy transition is non-negotiable, but we need more reflection and self-criticism, as well as a constant reassessment of our ambitions and objectives," concluded Marzo. "We need to strike a dynamic, realistic and pragmatic balance between energy security, the environment and the economy."