4th Directors' Club Annual Conference: An Enriching Debate on Emerging Risks and How Boards Can Manage Them
Alumni share their thoughts on the meeting and highlight key ideas from the debate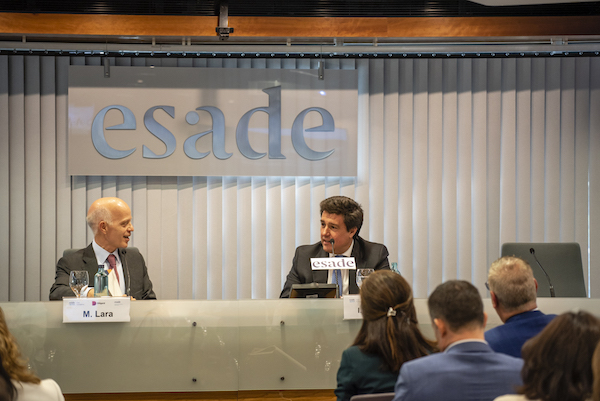 The Annual Conference of the Esade Alumni Directors' Club focused on the emerging risks that pose some of the greatest global threats – geopolitical risks, cybersecurity risks, and risks related to the management of people and talent – and how boards of directors should address them.
CEOs, board members and experts shared their views on the role of boards of directors with regard to emerging risks and the permanent state of crisis that is a sign of our times.
José M. Beneyto, university professor, lawyer, essayist and director of the Royal Institute of European Studies, introduced the session on geopolitical risks, a topic debated by a roundtable featuring Ramón Abella, Partner and Risk Assurance Leader at PwC; Rosa M. Sanz (AMP '07 / Programme for Directors '20), Director of EirGrid, EDP Redes and Iberpapel; José M. Piera, EMEA Operations Manager at Fluidra; and Natividad Capella, Executive Director of Risk Management and Planning at CaixaBank.
A second roundtable, this time on the topic of cybersecurity risks, featured Rita Estévez (Programme for Directors '17), Board Member at Línea Directa; Guillermo Llorente Ballesteros, Corporate Director of Security at Mapfre; Miguel Soler Ruiz-Boada, Internal Audit and Compliance Director at Prosegur; and Abel Linares, CEO of NunkyWorld.
The risks associated with people management were analysed by João Paulo da Silva, Senior Vice President and General Manager of SAP for Southern Europe and French-Speaking Africa, who spoke with Samuel Pimentel (Programme for Directors '22), Executive Chairman of Ackermann, about the importance of managing the diverse range of cultures, beliefs and races, which enrich companies while at the same time posing a management challenge.
The event ended with a talk by Ismael Clemente, CEO of Merlin Properties, who shared his vision in an interview with Mario Lara, Director of the Centre for Corporate Governance and Esade Madrid.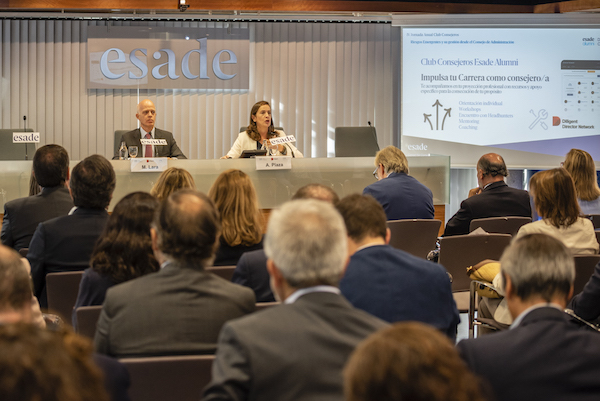 Different points of view
In his concluding remarks, Mario Lara, Director of the Centre for Corporate Governance and Esade Madrid, observed: "We began the morning by getting an overview from Prof. Beneyto, who outlined various scenarios for the war in Ukraine, the evolution of inflation in the United States and Europe, the role of China in international trade, the need to reach an agreement with Iran, and the opportunities in Latin America despite the rising tide of populism."
Regarding the roundtable on cybersecurity, Lara underscored the importance of communication between management teams and boards and of flexibility in the design of medium- and long-term risk maps, because cybercrime is very well organised and professionalised. "These risks must be addressed from a holistic perspective of the organisation," he noted. "It is not only a matter of technology, but also of people and processes, with prepared business plans."
In short, the conference covered a multitude of different ideas and approaches related to key risk areas that come up in board meetings. Knowledge and experiences were shared in a relaxed and open way, and networking and interaction among community members were facilitated via debate workshops, which Lara described as "a key dynamic in this year's event".
Attendee feedback
Ana Plaza (Programme for Directors '18), Vice President of the Esade Alumni Directors' Club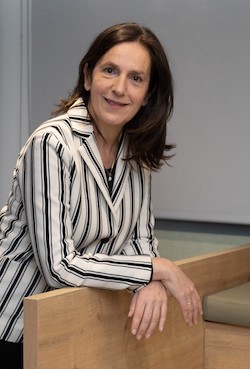 "All the topics discussed were extremely timely and I am sure that they have been on the minds of all attendees. They are a part of the environment in which we live, and we have to be very aware of their potential impacts so that we can be prepared for them. In some cases, our intervention is minimal, as in the case of geopolitical or macroeconomic risk. In climate change, however, we can each do our part, and in the case of cybersecurity and talent management, we definitely have to take action. For me, the most interesting thing was to discuss all of these topics with input from experts in each area, as well as from board members, with the aim of monitoring and controlling these risks through appropriate action plans and follow-up.
In my view, cybersecurity and talent management are a key part of any risk map, because we are all subject to their impact. Cybersecurity is already at the top of many rankings, as it is a long-standing and growing risk that can cause huge financial losses and reputational damage. In the case of talent management, because of the shortage of qualified personnel and the need for differentiated management, companies must undertake a cultural change that is promoted and led by the board itself.
For board members, it is essential to be open to different opinions, to know how to listen, to ask questions and to form their own opinion. Forums like this one make this task much easier, as they bring together multiple points of view in a single place. It has become an essential event for those of us who are in this profession or who aspire to join it."
Julio Arca (PMD 10/ Programme for Directors '20)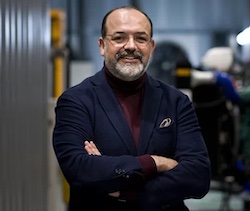 "It was an enriching experience, as it touched on 'macro' issues that are important, but which you ultimately don't spend as much time on as they deserve because you are tied up with the day-to-day operations of the company.
The overview of today's geopolitics – in particular the invasion of Ukraine – was closely linked to the underlying situation, which is the power struggle between the United States and China. The uncertainty derives not only from the climate of 'classical warfare' but also from the current version, sometimes defined as 'hybrid warfare', where economic and digital aspects are used as weapons of war. I would also like to highlight the importance of cybersecurity and the demystification of the lone hacker. In fact, what we are talking about is a highly organised criminal industry. Finally, I want to mention the importance of talent, data and good governance as key assets of organisations. The ground rules in organisations are evolving towards incorporating the ESG framework into strategy, which is here to stay and in some sectors is already considered an essential competitive factor."
Muriel Uzan (Programme for Directors Madrid '17)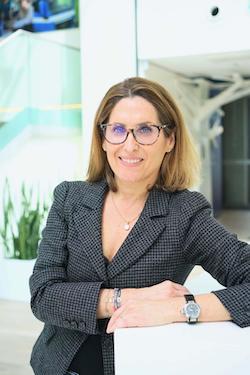 "I was very pleased with the content of the 4th Annual Conference, where we discussed topics of great relevance to boards of directors, including geopolitical, cyber and talent-management risks. In addition, the creation of two discussion workshops to deal with geopolitical and cyber risks seemed to me to be very appropriate. I took part in the workshop on cyber risks. Solving the case that was sent to us allowed us to share opinions with our tablemates and consolidate our knowledge.
I found it very interesting because, on the one hand, we worked in a group on a specific topic and, on the other hand, we were able to network with the people assigned to the same table. These were very enriching conversations, as we generally came from different backgrounds. It is essential to share and debate ideas in order to reach a better understanding of the issues from other perspectives.
The first presentation by José María Beneyto, analysing geopolitical risks, was fascinating and very enriching. In a very short time, he managed to share with us the geopolitical map and the associated risks in a very educational and dynamic way. Meanwhile, the session on cybersecurity risks featured an all-star panel that shared best practices for cybersecurity risk management. The same was true of João Paulo da Silva's excellent presentation on the risks associated with people management."
Marguerite McMahon (FTMBA '81/ Program for Directors '20 )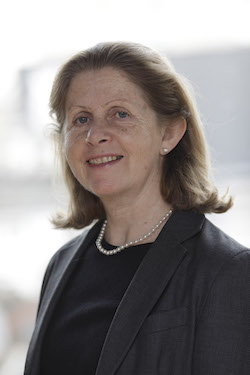 "Cybersecurity risk has been on the rise for several years now and, in my opinion, it is one of the greatest threats we face today. It can affect anyone, large or small, public or private, because of not-very-sophisticated failures that could be greatly reduced through training and awareness of cyber risk management issues on the part of company employees, including board members. All companies should have a continuity plan and regularly carry out simulations to see whether they have weaknesses or need adjustments.
The cyber and geopolitical discussion workshops allowed for more in-depth conversations and the sharing of experiences. Although we had minor differences in terms of how to approach the case, the discussion led to a common position. We were reminded that it is important to listen to everyone before making a decision, which is an important skill for board members. Overall, I was very pleased with my cyber table.
An important aspect of the day was being able to reconnect in person with my colleagues from the 4th Programme for Directors, which ended in February 2020, just as the pandemic was getting underway, and also to meet other people who completed the programme. It was very interesting to share experiences with a high-level audience, and to discuss how boards deal with risk depending on the profile or sector of the company. In fact, we found that there were no major differences."
Eulalia Planes (Programme for Directors '17/ Promociona '19)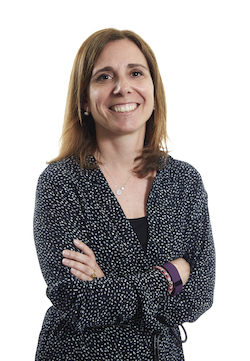 "The conference featured top-notch speakers. Honestly, I found all the roundtables very interesting, as they covered a diverse range of current-affairs topics. In my experience, cyberattacks and digitalisation involve major threats. The addition of the discussion workshops was also very positive, although perhaps it would have been a good idea to have an overall discussion at the end. In any case, these sessions allowed us to share our visions and meet people from other graduating classes."