Career Week 2023: Take the step to success
The second edition of Esade Alumni Career Week was once again a success among the community.
Esade Alumni Career Week – an intense week of activities and networking sessions aimed at enabling participants to advance in their personal and professional development – is back with a cross-cutting, participatory programme.
Career Week 2023, which ran from 13th to 17th February, featured the participation of more than 900 alumni and 50 companies and was an opportunity for alumni to grow as leaders and discover the opportunities available in the market. With more than 20 in-person and online sessions, Esade Alumni has strengthened its contribution to business development by inspiring, energising and facilitating the professional and personal growth of its members.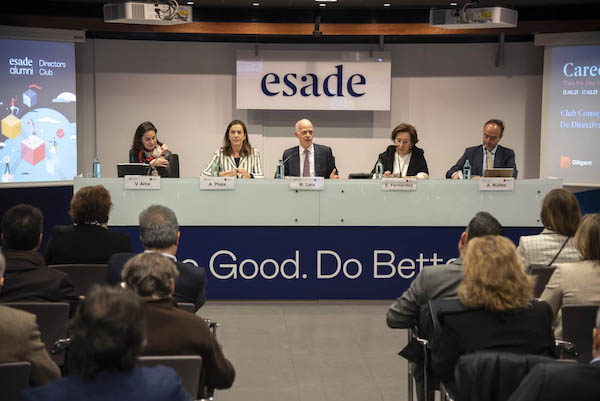 Leading change
One of the main characteristics of Career Week is its integrative and transversal capacity. Thanks to the participation of our network of sector-specific clubs, the event was imbued with the perspective of the various professional areas, economic sectors and professional profiles represented within our community.
Once again, this year's Career Week events were designed to bring alumni into contact with their community and allow them to share experiences, maximise their potential, grow as responsible leaders and discover the opportunities available in the market, thanks to contact with the companies taking part in the week-long event.
The opening session featured Ousman Umar (DGONG '18), founder of the NGO NASCO Feeding Minds and winner of the 2021 Princess of Girona Foundation Social Award, who highlighted the importance of promoting fundamental values such as resilience, the ability to overcome obstacles and adaptability to change as the basis for achieving success.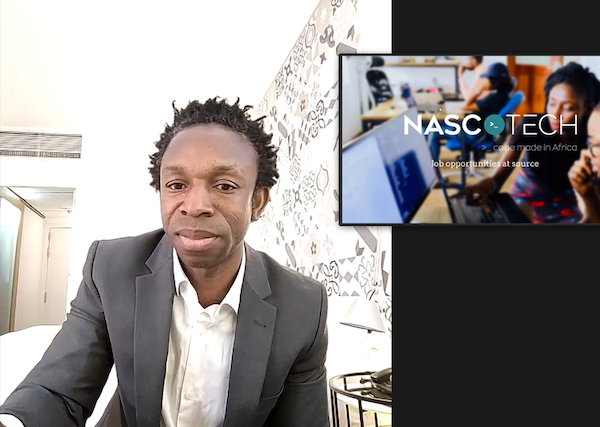 "Each of us can be a force for change in our society," declared Umar. "If you feed people's minds, you are not only changing their lives, but also enabling them to lead change in their communities. This is the power of education."
Like Esade Alumni, Ousman Umar is convinced that together we can make big changes: "If you can't fly, remember that you can always run. If you can't run, you can walk. And even if you can't walk, remember that you can always crawl to be the change you want to see in your community, in your country and in the world.
Exploring markets
One of the highlights of Career Week was a new Matins Esade session featuring Juanvi Martínez, Senior People Partner and Career Business Leader at Mercer Spain.
Geopolitical instability, economic uncertainty and tightening labour markets have profoundly affected plans involving people. "This year, in order to be more resilient, companies, both in Spain and globally, will focus on five major trends: readjusting needs, working collaboratively, offering total well-being, promoting employability and harnessing collective energy," explained Juanvi Martínez, referring to Mercer's 2023 Global Talent Trends Study.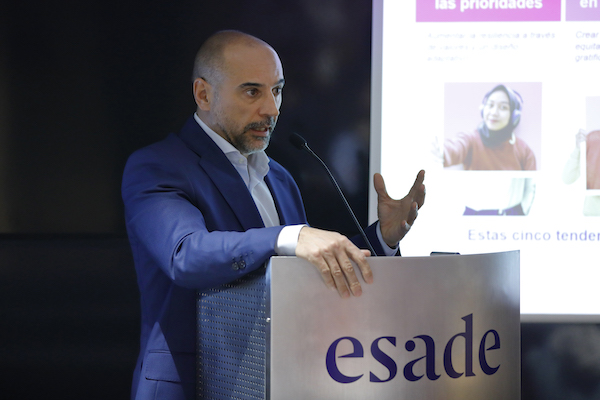 According to Martínez, the challenges for organisations seeking to attract and retain talent in 2023 include promoting sustainability and enhancing corporate reputation by leading with values. He pointed out that there is a generational bias: "Workers of the younger generations increasingly want to work with a company, rather than for a company." According to the Mercer report, companies that are more resilient and approachable will attract talent, and they can do this by readjusting needs, working collaboratively, offering total well-being, promoting employability and harnessing collective energy.
In Madrid, Ángel Sáenz, Country Manager for Spain and Portugal at LinkedIn, was the guest speaker at a session of Desayunos Esade entitled "LinkedIn: a 3D Marketplace". Drawing on various components and approaches to using LinkedIn, all emanating from the company's vision and mission, Ángel gave concrete examples of how companies and their employees and executives are using LinkedIn to find the ideal mechanisms for communicating, learning, sharing, finding talent and creating opportunities for everyone.
Companies that are more resilient and approachable will attract talent, and they can do this by readjusting needs, working collaboratively, offering total well-being, promoting employability and harnessing collective energy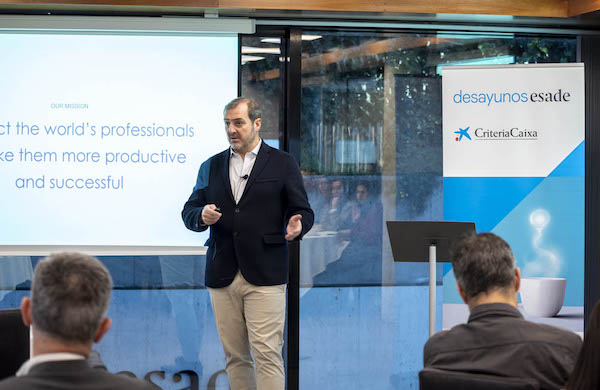 What the experts say
The conversations with headhunters gave alumni an opportunity to engage in face-to-face dialogue with talent experts and clear up doubts on the subject of talent recruitment. In Barcelona, Seeliger y Conde, Status EMA Partners, Talengo, Page Executive, Talman Group, Russell Reynolds Associates and Adqualis took part in the session. In Madrid, the headhunters represented were Korn Ferry, Heidrick & Struggles and Ackermann.
Among other tips, the experts stressed the importance of professional competencies over experience, the ability to present yourself as you really are in an interview to guarantee good fit and future success, the effectiveness of doing research to find new opportunities, and being consistent in your approach both with headhunters and with companies.
The professionals agreed on the importance of honesty in your daily work, empathy, self-knowledge, the ability to pursue a purpose that entails a responsible outlook, taking responsibility for your own professional development, networking, exploring forums and environments that are off the beaten track, and cultivating your personal brand to achieve the image you want to project.
The speakers also agreed on a key point for professionals over the age of 50: there are projects available for them – many, in fact. However, they recommended knowing by age 40 where you want to take your career, and then planning and diversifying your efforts for the next stage.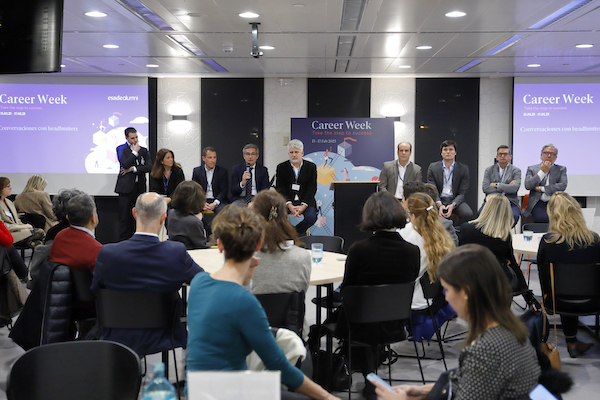 Venue for reflection and personal development
Reflection was the order of the day at the online Refresher Programme session entitled "Critical Thinking in Companies: Ready, Set, Go?", led by Sira Abenoza (CSR '08), Lecturer in the Department of Society, Politics and Sustainability at Esade.
Critical thinking is a concept that has gained new relevance in recent years. In the view of Abenoza, thinking necessarily means thinking critically; not thinking means understanding received wisdom as a mandate or unquestioningly accepting things as they are. Asking questions about the world, about ourselves and about others makes us human. However, in the face of complexity, we are less able to understand the consequences of what we do.
Abenoza gave several historical examples before turning to Hannah Arendt's theory of the banality of evil. Arendt argued that in most cases we do bad things out of ignorance – that is, because we fail to ask ourselves about the implications of our actions. How can we prevent this from happening? Through knowledge. The harm we inflict on others is harm that we do to ourselves, as well.
As for the business world, the same premise applies: "Although critical thinking is uncomfortable in the business world, the problem is that we are in a VUCA world where AI makes decisions for us," commented Abenoza. "If we fall into a state of objectification, the risk is greater." According to Abenoza, critical thinkers are the ones who will lead companies to perform better. "As managers, we must ask ourselves how to be catalysts of critical thinking spaces," she argued.
As yet another part of this intense week, Esade Alumni's interest clubs analysed their specialties in a cross-cutting manner. They offered opportunities to talk about multiple topics, including: how to move from business to entrepreneurship; consulting as a profession of the future and the rise of mixed-model service companies; the strengths of senior talent for organisations in terms of knowledge, strength and transversal vision; the challenge of in-house lawyers in the legal operations area and how to become a business partner; the profile of a board of directors and the importance of doing good due diligence on one's professional history when seeking such positions; professional opportunities related to the environmental challenge; and why we should apply the lessons of mindfulness in the workplace. The sessions sparked great interest, as reflected by the community's posts on social media.
The international chapters also participated in the organisation of events in Shanghai, London, Dublin, Porto, Geneva, Milan, Lima, Lleida, Seville, Bilbao, Valencia, Andorra and Bogotá. The topics covered included networking, adaptability to change, the most sought-after skills, the analysis of different labour markets, and the management of diversity and talent in organisations.